1.Lavender Fields, France
In the summer months, the rolling lavender fields of Provence teem with bright purple blooms as far as the eyes can see.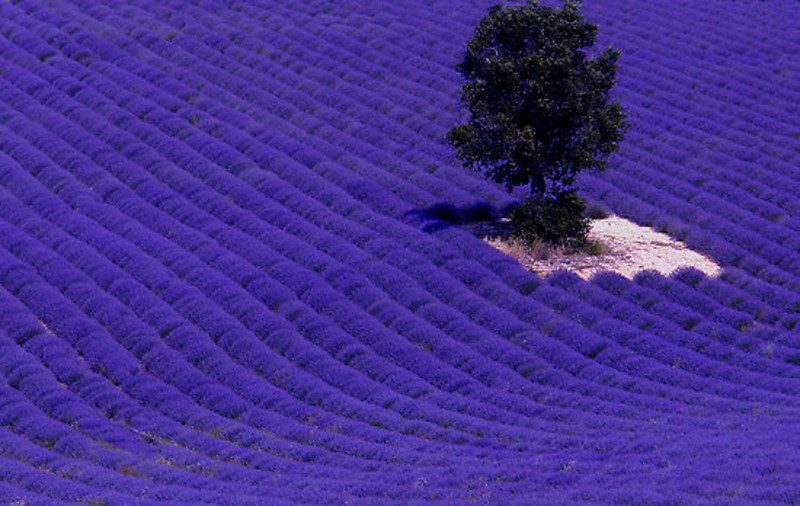 2.Procida, Italy
This tiny island is starcked with charming candy-colored houses set against the brilliant blue backdrop of the Mediterranean.
3. Lake Retba, Senegal
Due to its high salt content, the water has the perfect living conditions for a certain kind of micro-algae calleddunaliella salina. The lake has different shades of pink depending on the season and time of the day.
4. Tulip Fields, Holland
Throughout spring's prime months, the immaculately manicured tulip, daffodil and hyacinth fields of Holland bloom into a stunning and precise array of colors.
5. Cano Cristales River, Colombia
Also referred to as "the river of five colors," this biological wonder turns a striking red color every fall thanks to a rare plant species that flourishes on its sandy floor.
6. Great Barrier Reef, Australia
This wonder of the world is home to more than 400 coral species, 500 seaweed species and 1,500 fish species-and it's got the color palette to prove it.
7.Luoping, China
The sprawling farmlands of this dramatic, mountainous county in Eastern China become a "golden sea" when canola blooms are in season.
8. Lake Natron, Tanzania
his shallow salt and soda lake is so saline that it's completely inhospitable for most flora and fauna. The amazing red water color and electric orange shores.
9.Shibazakura Hill, Japan
In springtime, the fields at the base of Mount Fuji errupt with hundreds of thousands of moss blooms, or "shibazakura", in varying shades of pink.
10. Valley of flowers National park, India
This World Heritage Site, set against the wilderness of the Himalayas, is covered in vibrant flowers.